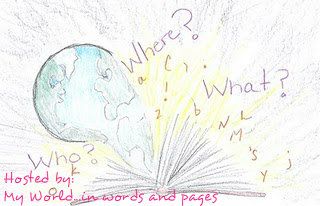 I decided to join Melissa @ My World... in Words and Pages for this.


Who are you with? Where are you at? What's happening?



One of the reasons I started blogging was because I thought it would be fun to read with others. This wont include spoilers.
If you want to share where you are at this point in your book, make sure to check Melissa's post.

I had to stop reading this so I could read Terra for the tour, but now I'm back to Jesse James and I'm hoping to finish this one tonight.




Jesse James and the Dragon's Egg

by W. Edward Woodward III

We are at the lake with Jesse, Lamar, Kate, Brad, John and Al. We are shocked and sad because of a little accident with an alligator. I'm hoping everything will be fine though, I still don't know if he'll make it.