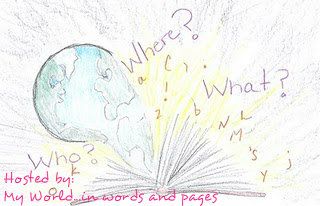 I decided to join Melissa @ My World... in Words and Pages for this.


Who are you with? Where are you at? What's happening?



One of the reasons I started blogging was because I thought it would be fun to read with others. This wont include spoilers.
If you want to share where you are at this point in your book, make sure to check Melissa's post.

I'm just starting this book so I'll try my best to include as much as I can. I'm excited to read this book, I've heard great things about it and the author.



The Iron King

by Julie Kawaga

We are with the character, listening to him talk about his 6th birthday and his father. They had gone to the park and were feeding the ducks.
I missed the most important thing, he's talking about it because it was when his dad disappeared.
Oh my, the character is a girl, I should read more before postimg, this is what happens when I leave everything til the last minute and try to post it quick.